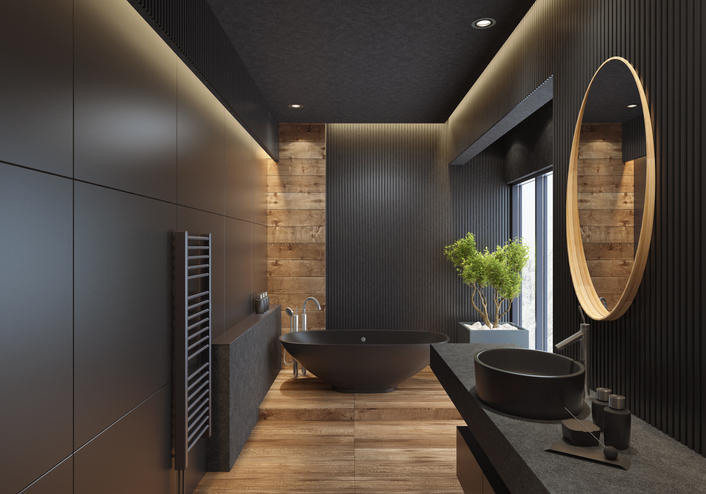 A great way to increase a home's value and enhance livability is by transforming the bathroom into a spa-like getaway. Here are helpful tips on how to create the perfect spa bathroom:
Invest in high-end natural materials
To emulate a spa environment, use natural materials such as stone and wood. These organic materials bring more nature into the space. These also exude elegance and a certain Zen-like quality that simple tiles cannot achieve.
When choosing color palettes, opt for darker and slightly muted colors like gray stone and dark woods that bring in a more relaxed vibe to the room. Bright and punchy colors may overwhelm the senses and destroy the essence of calm.
Enhance the space with greenery
Plants enhance the natural materials in a spa-inspired bathroom. It also brings more life into the space, giving it a down-to-earth feel. It's best to choose plants that can handle low-light environments like spider plants, bamboos, orchids, and snake plants.
Get the lighting right
Lighting plays a key role when it comes to transforming the bathroom into a serene spa escape.
For a softer and more laid-back atmosphere, get plenty of natural lighting in the space then complement with pendant lighting. A skylight or a chandelier hanging from the ceiling not only illuminates the area with a soft glow but also adds a more luxurious feel to the space.
Find ways to incorporate seating
A great way to get a spa experience is by incorporating seating. This could be as simple as adding a stool in front of the vanity or putting a bench beside the bathtub. Don't be afraid to put a plush sofa between the tub and vanity for ultimate comfort.
When adding seating, remember to keep bathroom and furniture proportions in mind so nothing looks out of place.
Install luxury spa features
Having the right amenities can turn an ordinary bathroom into a luxurious retreat. The following amenities are some of the must-haves of any spa bathroom:
Large soaking tub
Rain shower
Steam shower
Vertical massaging showerheads
Thermostatic shower tower
Free standing tub
Hot tub
Radiant- heated floors
Heated towel rails
Sauna
Customized vanity
When upgrading the bathroom, still consider the standard fixtures such as the faucet, sink, and mirrors. For instance, a trough sink paired with a sleek faucet and a suspended mirror can make the space look more modern and visually appealing.
Pay attention to the details
Small details like the type of towels on the rack can make a big difference in the overall look and feel of the spa bathroom. Put large and ultra-soft towels on racks and use elegant soap dishes on the counter to complete the look. Go the extra mile by lighting scented candles for a soothing fragrance that fills the senses.
Want to learn more about home decorating tips and the real estate options in the Greater Cleveland area? Get in touch with expert realtor Cici Riley today. Call 216.410.3114 or send a message to ciciriley(at)howardhanna(dotted)com.